Practical bathroom lighting design
The bathroom plays a significant role in our daily routine. It is one the first things we use in the morning, and one the last we use at night before going to bed. It is therefore essential to create bathroom lighting which promotes a peaceful awakening.
Functional and aesthetic bathroom lighting design
Bathroom lighting should be beautiful and luxurious. Bathroom lighting is just as important as it is in any other room of the house. In fact, exclusive bathroom lighting has the ability to enhance a space and create a sense of luxury and well-being.
However, bathroom lighting should also be practical and able to suit everyday needs such as grooming, shaving, and putting on makeup. Luckily, with exclusive bathroom lighting design solutions from ONE A, both stark functionality and aesthetic appeal can be achieved simultaneously.
Downlights are a popular and ideal choice for the overall lighting of the master bathroom. Downlights offer a bright directional light that can be targeted where it is needed. Make sure to choose a light source with a dimmer. Also, coloured light allows you to play with the atmosphere of the bathroom.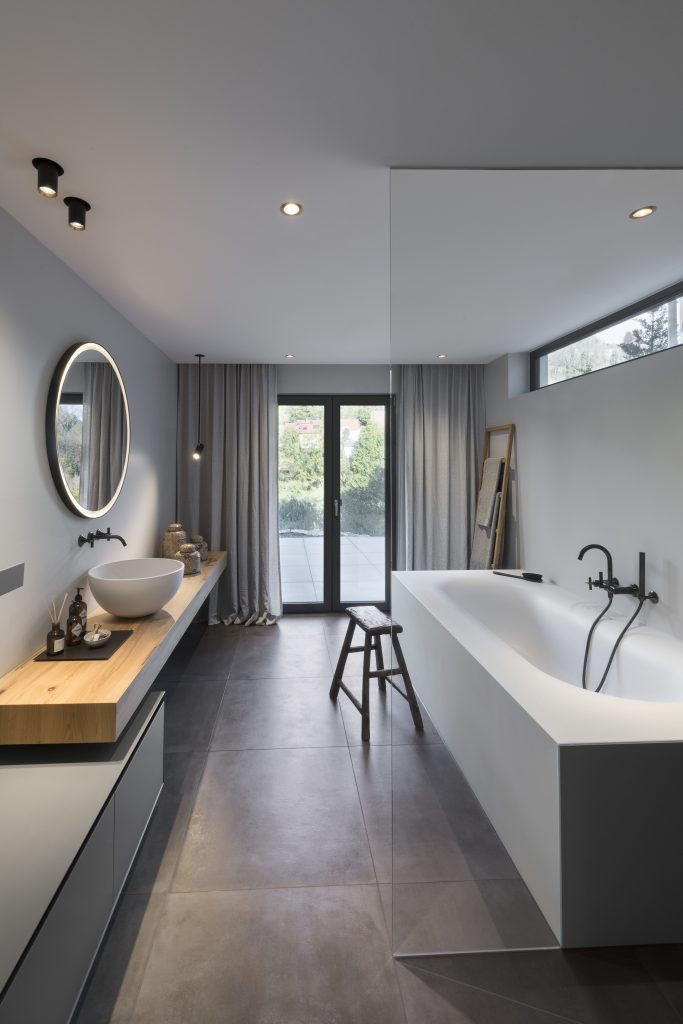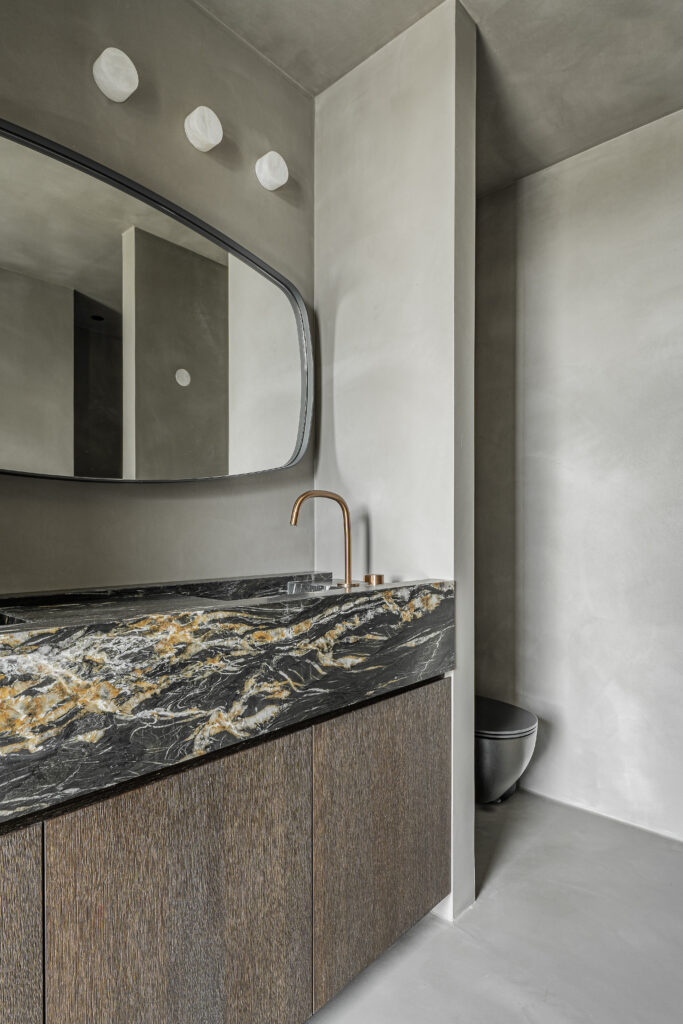 Modern bathroom lighting
Our innovative and award-winning smart home system, STORM SYSTEM®, offers a large variety of smart-home solutions for the bathroom, such as speakers, smoke alarms and of course lighting. All applications are mounted into the same mounting unit.
The mounting unit of the STORM SYSTEM® is, as of all our products, beautiful, streamlined and with a minimum of noise. It is a discreet technical solution that will not interfere with the aesthetics of the bathroom, but merely complement it.
Master bathroom lighting
In the master bathroom, where grooming and makeup application regularly take place, the lighting should be bright and evenly distributed across the vanity mirrors. In the guest bathroom on the other hand, dimmer light with more ambiance is preferable.
The bathroom mirror is an essential part of the bathroom. It serves multiple functional purposes but is also a design element. Bathroom wall sconces installed on either side of the bathroom mirror will provide indirect and sufficient lighting without glaring. It will also allow a more detailed reflection with fewer shadows.
Our AW series is an ideal choice for mirror lighting for the luxury residence bathroom. The AW series will provide a beautiful aesthetic and bring a distinct and unique design element to the bathroom, but without dominating the room. The lamp is minimalistic and streamlined with no disturbing elements, making it seem as if it floats.
For more bathroom lighting ideas, please visit our digital showroom.
Find more inspiration
Kitchen lighting
Living room lighting
Dining room lighting