ONE A | Specialized in modern and luxurious lighting solutions
At ONEA, we are specialized in creating modern flush ceiling lights in a timeless design. Since 2008 our main focus has been to create architectural lighting designs that compliments the architecture of the space. Discover our large selection of award-winning luxury ceiling lights for the private residence, yacht, office landscape, jewellery boutique, high-end hotel or fine-dining restaurant. From modern flush ceiling lights, with a minimum of visibility and smart-home capabilities, to elegant pendants which will adorn any space and instantly become the focal point. Our designer ceiling lights creates an exclusive and decorative centrepiece in any space.
Ceiling lighting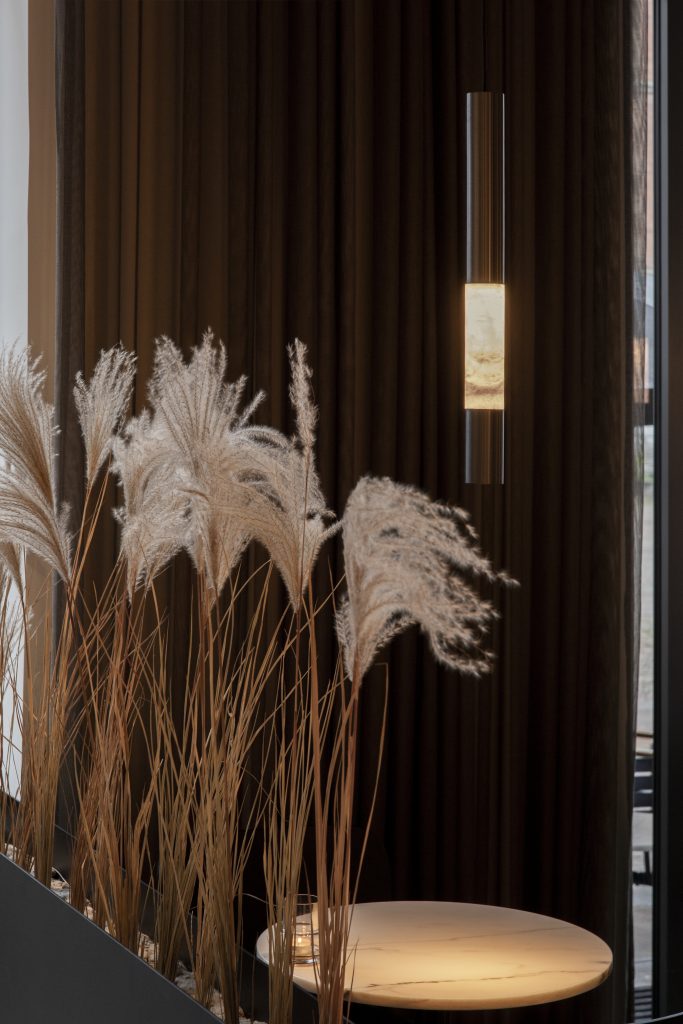 Beautiful designer ceiling lights 
The ceiling light plays a significant role in how a space is perceived. A beautiful and stunning pendant design can truly transform a space into a luxurious haven.
Modern flush ceiling lights offers a perfect blend of function and beauty and is an ideal choice to place above the
dining table, kitchen island or even in the entry hall in the private luxury residence.
A perfect blend between style, function and simplicity
Our ALUBAST DIRECT pendant is a perfect blend of style and simplicity. Rather than dominating the space, the architectural design of the lamp accentuates the surroundings.
The pendant emits a calm light from the alabaster, combined with direct spotlight placed in the lower part of the tube.
When used as e.g. luxury living room ceiling light, the eyes will immediately be drawn to the polished, smooth surface of the pendant.
Flush ceiling lights

If a more flush, clean and minimalistic ceiling light is desired, our Storm System Moon & Sun designer ceiling lights are the perfect choice. The Storm System Moon & Sun are exclusive and beautiful ceiling lights but with a minimalistic and discreet design.
The Storm Medium Sun is a small dimmable ceiling light, that emits a soft and pleasant light. The Storm Medium Moon is a slightly different ceiling light, ideal as a night light.
Both ceiling light are made from the beautiful alabaster stone and are designed to flush ceilings or walls regardless of placement.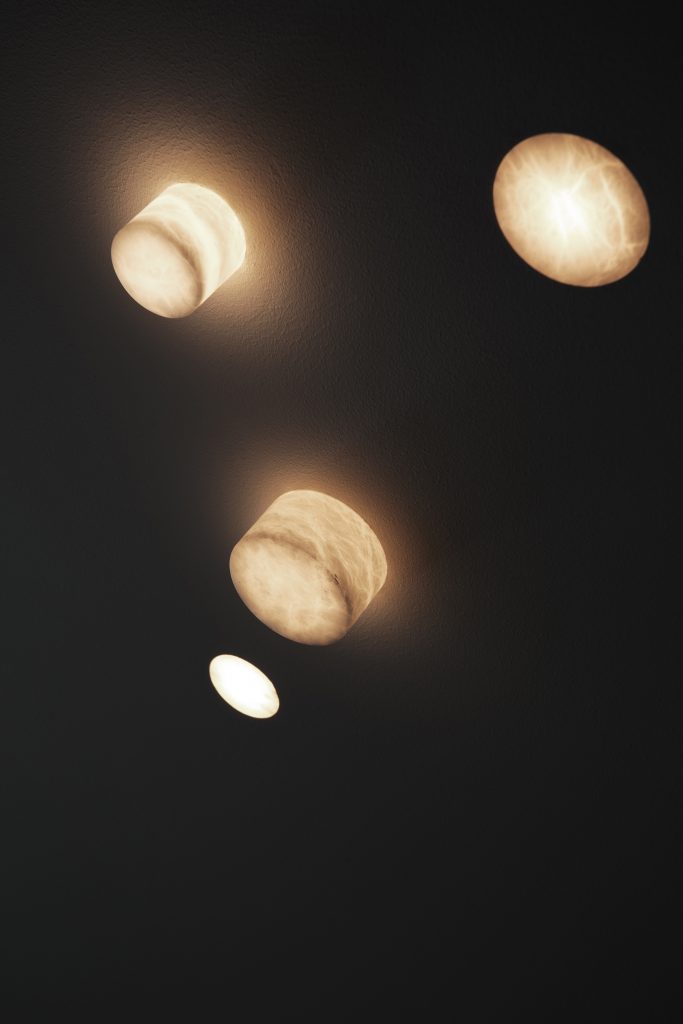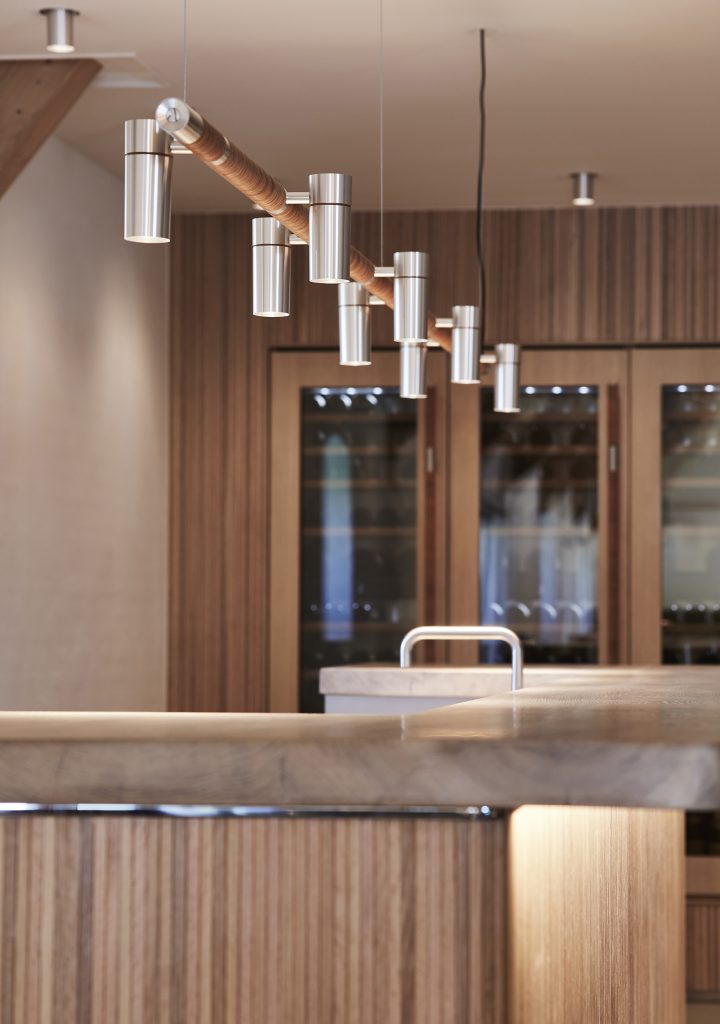 Beautiful and distinct ceiling light design
Brighten up the kitchen-, dining- or meeting tables with a distinct pendant ceiling light from ONE A.
Luxury lighting adds drama, intrigue and wow-factor to a space.
ONE A's X-tendable pendant is made for the private luxury residence or high-end business with exquisite taste and appreciation for quality.
The X-tendable pendant consists of an anodized base with a hand-wrapped leather cord detail. 2, 4, 6 or 8 spots are placed with 40 cm between each spot for an evenly distributed light. The pendant is dimmable and honeycombs in the lamp-heads prevents glaring. The pendant is truly an artwork with a functional purpose.
Aesthetic smart-home ceiling lights
Smart-home solutions are a natural evolution of our homes, bringing better appliances, better systems and better experiences. Unfortunately, the majority of smart-home solutions bear the mark of the lack of meaningful dialogue between smart-home installers and the architectural community.
However, with STORM SYSTEM® this has changed. STORM SYSTEM® offers beautiful and streamlined ceiling lights with innovative smart-home technologies in an architectural design. For instance, The Storm Medium Base is a sophisticated ceiling light, carefully designed to flush the surface of any ceiling. The light fixture has a minimalistic yet stunning design made by either concrete, glass or oak.
If a more functional ceiling light is desired, our Storm Medium Out and Storm Medium Track are ideal choices. Both fixtures are designed to rotate 350° and angle 180° and are both equipped with a honeycomb louvre to avoid glaring.